May 5, 2011
Well, it's been more than a month now since we said our final goodbyes to Nikki, and I suppose the hurt is diminishing some.
Our new puppy Max is proving to be a real handful, and he really does exhibit many of the traits that Nikki did at that age.
For those that don't know, Mary and I ride, and are very involved with the Patriot Guard Riders here in Colorado. We spend a lot of time throughout the year on our bikes and really do love the sense of freedom that you get from riding the open road. You might ask what any of this has to do with Nikki, and while I'll admit that it's a very tenuous link, when I was trying to think of an appropriate way to honor the memory of Nikki (among the ideas that I had was a patch or other type of "biker" memorabilia) I came up with the idea of having a helmet airbrushed in her likeness. The idea there being since Nikki loved to go for rides (though never on the bike!) I'd always have her with me when I wear the helmet.
The UPS man brought the helmet today. I made him wait while I opened the box so I could show it to him. (Nikki and him had what I'd call a very "special" relationship. She did not like his truck at all and would always bark and carry on when he was near)
Anyway,  here's a picture of my new helmet: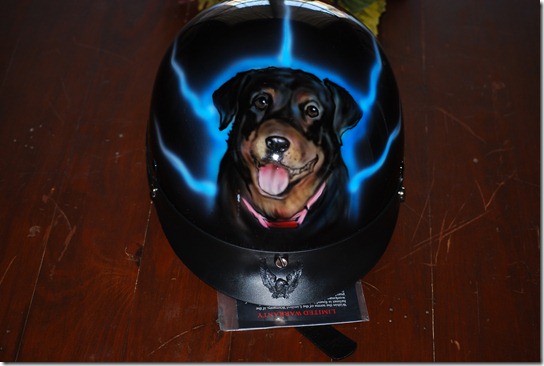 Tomorrow we'll be riding to honor one of the USAF Airmen (MAJ David Brodeur) who was killed in Afghanistan, and Nikki will be right there with me…