Tripawds is a user-supported community. Thank you for your support!
We're about 8 days short of the 7 MONTH Apuversary for Nikki!! Considering what her chances were when she was first diagnosed, I really do know how lucky we are that she's still with us, and in great health to boot! I swear every day with her is like we're going backwards in time and Nikki is becoming more and more puppy-like. These days if I toss a ball in the house, chances are that Nikki (remember, 9 years old and only 3 legs) will likely get to it before the other two (who are mere puppies at just over 1 year).
Today was a dual-doctor day for Nikki. First she saw Dr. Friedly, who is her holistic vet. He's the one that devised the treatment plan that we're on (No Chemo, all natural "eastern" medicine) that seems to be working quite well. He basically looked at Nikki, told us to keep doing what we're doing, and scheduled the next visit for December (Which will be 1 year post-diagnosis). Bottom line as far as he's concerned, Nikki is healthy and happy, even though she's missing a leg.
Next she saw Dr. Pyne, who is Nikki's primary vet. Dr. Pyne has seen so much of Nikki (and us) over the last year that I'm sure she's pretty tired of us. This was basically a follow-up exam to the dental cleaning that we did last week, and a general all-purpose examination. The verdict there is Nikki is healthy and doing great. Nikki owes her life to Dr. Pyne, and we're all very appreciative of that fact! While the visits to Banfield aren't exactly the most fun thing for Nikki, she really does enjoy the ride both to and from, as you can see here: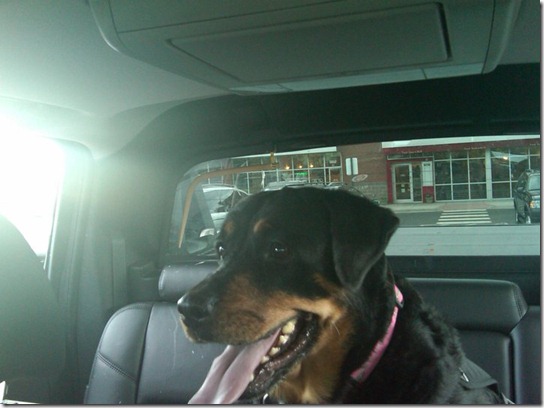 Anyway, I guess I keep providing these very positive updates just to show that there is light at the end of the tunnel for those that are just starting down this path. I know every dog is different, as is every situation, but I can't say enough about the treatment plan (and diet) that Nikki has been on since her diagnosis. I really do believe that had we gone the traditional path, we'd have lost Nikki by now.