About
This is the story of Nikki the Rottweiler and her journey with Bone Cancer.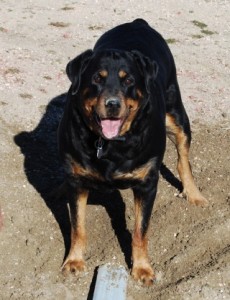 My name is Ted Malone. My wife Mary and I created this page to share Nikki's story.
Nikki is currently 9 years old. She was born December 26, 2001 and she came to live with us when she was just 6 weeks old.  Her breeder was going to euthanize her because she had defects (extra toes actually) and would never make a "worthwhile" show dog. When I heard about this (it was definitely a strange set of circumstances that even led to me knowing about her) I said I would take her. I have had big dogs for most of my life, and had very positive experience with Rotties. Mary wasn't so sure when I told her about the puppy (she had heard all of the stereotypes about the mean and bad Rottweilers) but she relented and let me pick her up. It was love at first sight for them, and Nikki has been a cherished member of our family ever since. (We now have 3 Rotties in the home; Nikki, her "sister" Sasha (who is just turning 1 year old) and a rescue dog "Buddy" that we adopted a couple of months ago. (We don't know how old Buddy is, estimates are anywhere from 3-6 years).
Nikki was diagnosed with Osteosarcoma in her right-hind distal fibia just before Christmas. We thought she was limping because of an injury that she got while we were playing with a remote control car. (ok, I was running it through the backyard while she was chasing it) The injury didn't seem to get better, so we took her to see the vet. The vet couldn't find anything wrong, and when it still didn't get better, she suggested we see a specialist. We saw the specialist, and they gave us the very bad news… After some time of denial, and taking Nikki to see the experts at Colorado State University and getting the same diagnosis, we have decided to embark upon the "normal" treatment plan for Osteosarcoma, which is amputation followed by chemotherapy treatments.
Nikki goes in for her amputation surgery on Tuesday, January 19.
This blog details the journey. (As I write this, Nikki is laying at my feet looking at me very funny, almost as if she knows that I am writing about her)