January 19, 2011
19 January 2011. A very important date in the Malone household… It's been ONE YEAR since Nikki had the surgery to remove her right hind leg because of a serious Osteosarcoma.
I don't think I'll ever forget that day in December, 2009 when the doctor said she had cancer and it was progressed enough to where she had days left to live unless we did something drastic.
I still remember standing in the waiting room at the vets office and hearing Nikki cry as they put her on the cart to wheel her out to us. I remember quite vividly that first look at her and the thoughts that I had just done the worst possible thing that I could do to her.
Now I look at her and, while I'm not a religious person, I can't help but thank God that she's still here with us, and for all intents and purposes is 100% healthy. I have taken to calling her "Nikki, the three-legged wonder dog". (She certainly looks the part, doesn't she?)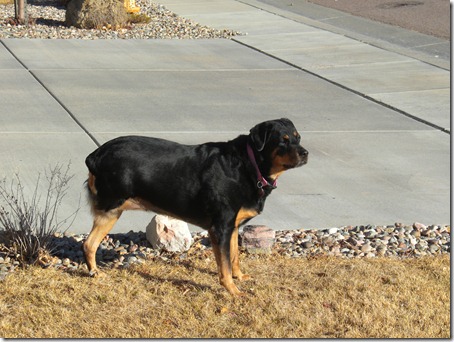 She's starting to get a bit gray on the tips of her ears and on her nose, but she's really regained that "I am the alpha dog, you will tend to me" attitude (which I think you can see from the picture) and she's gotten back to her pre-cancer self in every way, shape and form. She lets me know when it's time to be her chauffer, and lets me know when it's time to play. (As you can see by this photo, she's not going to give in to the "little one" Sasha either)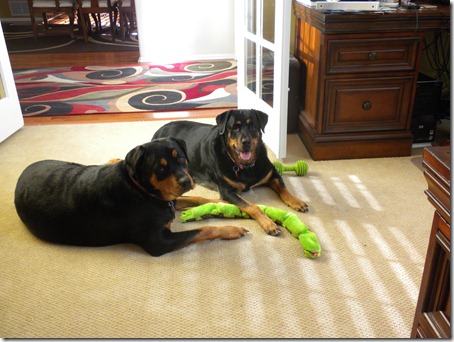 She has also gotten back to the "I am the protector of this house" mentality as well. We don't have to worry about the UPS or FedEx man going by on the street unnoticed. Nikki lets us know anytime they are near the house.
She is also enjoying the rides in HER truck, although this is a pretty bad picture, I think you can tell how happy she is.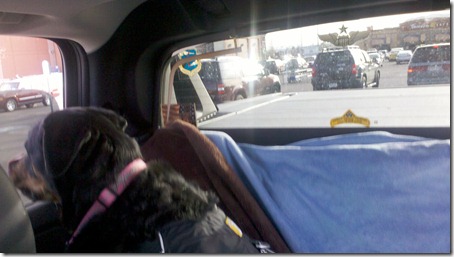 And most importantly, she is prone to letting the world know that the Avalanche is all hers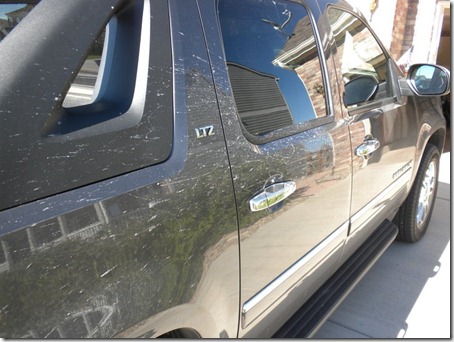 At any rate, if you happen to be reading this and are just starting the journey with your Tripawd, believe me when I say the road is up and down, but there's light at the end of the tunnel and don't give up hope. If you read back through the entries that I've posted here, you'll see that I never would have guessed that we'd be here a year ago.. I can't wait to see what this next year brings!