Tripawds is a user-supported community. Thank you for your support!
We are coming upon the 1 month anniversary of the amputation, and Nikki continues to get better.
I was in Boston for most of this week, so I missed out on a lot of the day to day stuff, but when I got home Friday night, Nikki was right there to greet me and you could most certainly tell that she was doing better.
Mary and I took Nikki to see Dr. Pyne yesterday and we were all relieved that the seroma is pretty much dried up. Nikki was pretty happy with the ride to and from, and all in all she's just getting on with being as normal as she can be on 3 legs. Her remaining rear leg is still weak, but at least she's figured out to scoot around when she doesn't want to go too far. (I think that's less work than actually getting up and moving)
Today is a lazy day for Nikki. She's spent most of the day under my desk as I've been sitting here in the office working. I was going to take her for a ride today on our normal "dog route", but I'm thinking that I may not do that after all. I think the more rest Nikki gets today the better off she'll be. (That remaining hind-leg is still weak, and I don't like to see her struggling on it)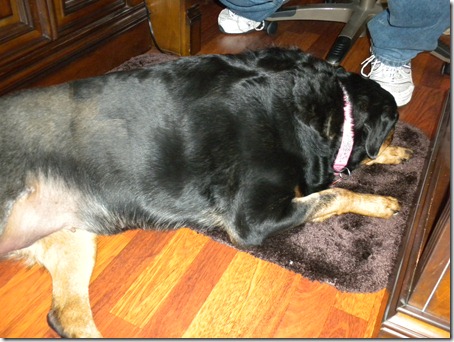 In other news, I had to get under the desk myself this morning and tie some things down. Good thing that I have lots of helpers: