Tripawds is a user-supported community. Thank you for your support!
First the good news, Nikki had appointments with both Dr. Pyne and Dr. Friedly this week, and in both cases the results were fantastic!! Dr. Pyne declared the seroma as completely healed, and said that Nikki is doing very well for this stage of the game. Dr. Friedly said that Nikki is doing great, and that there is absolutely no evidence of any type of metastasis. This is all FANTASTIC news from my perspective. (To put it into perspective, had we not taken the amputation and treatment route, Nikki would likely no longer be with us at this point)
Nikki continues to improve and get back to her "normal" self. I have noticed though that she is really enjoying being the center of attention and gives you "the look" when she's not being properly attended to. (Which of course is defined by her rules and subject to change without notice)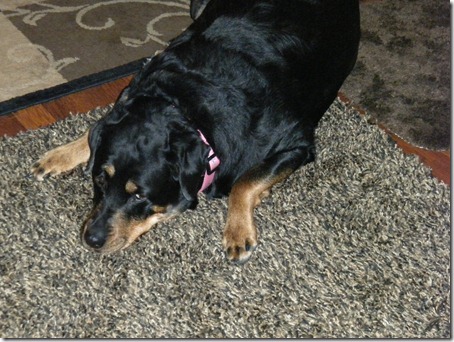 I was on the road for the first part of the week, but came home Wednesday night. Nikki was the first to greet me when I walked in, and she's been by my side for the most part non-stop since I've been home. Of course this causes issues with the other dogs, since they seem to want to be part of the action as well: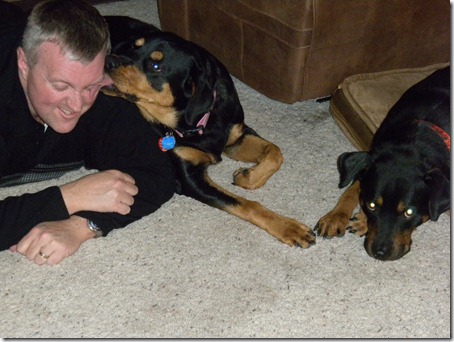 There's actually not much more to report this week. Nikki continues to amaze us with her spirit and the fact that she's just enjoying her life, even if it does mean some adjustments to her normal routines. Sasha and Buddy seem to be figuring out that she needs space when she walks, but otherwise she's just "Normal Nikki".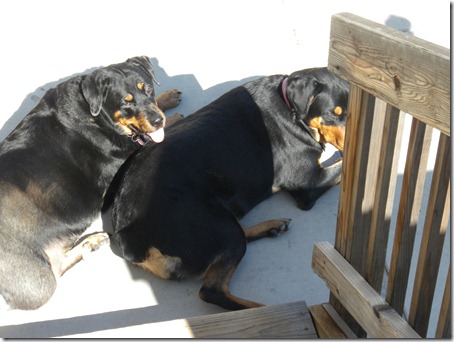 Tonight when I got home from work Mary was holding Nikki back, because the other dogs were going nuts at the door. Nikki didn't really like being held back so she was barking.. All in all you can tell that each day she seems to take one step towards being her old self.