Tripawds is a user-supported community. Thank you for your support!
With all of the mess of the surgery and post-surgery complications and infections out of the way, Nikki continues to get back her old post-diagnosis behaviors and mannerisms.
Mary and I left for a week in Europe on 1 May. We left the dogs in the care of our son Steven, and checked in from time to time via email and some peeks now and then at the security cameras. We could tell that Nikki was doing just fine while we were gone. (It was especially funny to watch Nikki outfox Steven one morning as he went out to help her up the stairs and she was already up on the deck)
When we got home last night all of the dogs were extremely happy to see us. Nikki in particular was overly-excited and kept pawing at me until I got down on the floor and let her lick my face for about 5 minutes.
I've been working from home today and Nikki has been no more than 6 feet away from me all day. When I look at her she has the most amazing spark in her eyes that I haven't seen in a year or so. It's very obvious that she is feeling great.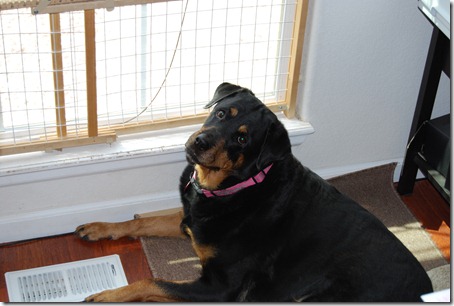 It's funny to be writing these blogs posts now talking about how normal Nikki is, but it's good thing!
We're definitely looking forward to meeting up with some of the Colorado Tripawds family here in Colorado Springs on Saturday!