Tripawds is a user-supported community. Thank you for your support!
Normally I'd save a post like this for an ampuversary date like 6 months, but the news is so good that I just didn't feel like waiting that extra week to share.
Today was Nikki's quarterly checkup with Dr. Pyne for chest X-rays and other "cancer detecting" work. The way this works is we have to drop Nikki off early in the morning, and then pick her up in the evening. They do this so Dr. Pyne doesn't have to rush any of the work and so it's more convenient for us. Nikki loves the ride to Banfield, and loves to show-off once she gets inside the store (We have to get there before PetSmart opens, so she gets a nice catered-to feeling when they let us in and the store is empty..
Today Nikki practically jumped out of the truck when we arrived at the store and ran to the door. Then she spent a fair amount of time checking out all of the displays. If you didn't know she had only 3 legs and saw her from the "good" side, you'd not know that you were looking at a Tripawd. She's moving around that well….
Well, to make the long story short, here's a full-chest X-Ray of Nikki taken today: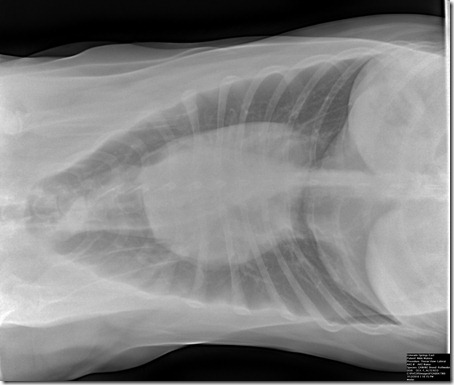 The almost unfortunate thing is that even though I have to veterinary training, I can read these pretty good at this point. What you're looking at here is a FANTASTICALLY CLEAR picture! No mets, no signs of anything abnormal, and basically an absolutely CLEAR set of lungs and other organs. This means that at this point we still see no signs of cancer showing up in other parts of Nikki's body.
Her next checkup is in late September! She's almost getting to a "healthy dog" routine!
Meet Tilley
We all miss Buddy of course, but sometimes things have the strangest way of working out. Today I was sitting in a meeting at work when Mary sent me an email with the subject, "Awwwwwwwwwwww". (I'll bet you can guess what's coming next). Anyway, as it turns out there's a couple that live up the road from us who are Active Duty Army and are being relocated to Ft. Hood. Well, for those that don't know, most Federal installations (Army bases are certainly Federal installations) do not allow Rottweiler's. Unfortunately for this family, they were having to move from off-site housing into on-post housing, which meant that they could not take their dog. They have a beautiful year-plus old Rottie named Tilley that was going to have to stay behind. Long story short, after meeting with them and Tilley this evening, we have a new member of the Malone household. Meet Tilley: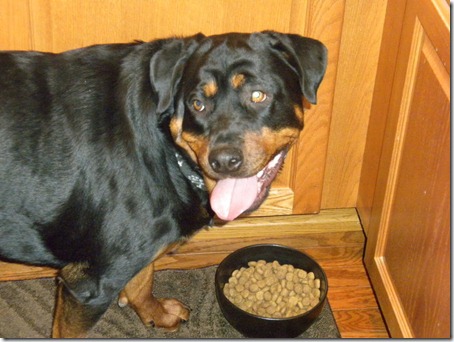 Tilley is getting adjusted to life in the house, and Nikki and Sasha both seem to have accepted her already. I guess we're back to a 3 Rottweiler family!