Tripawds is a user-supported community. Thank you for your support!
Now that we have tackled the infection, Nikki has really been getting back to form! She's been acting more and more like the "pre-diagnosis" Nikki, and is starting to let us know that we need to stop thinking about her as a dog with 3 legs, and more like a dog who's pain has vanished.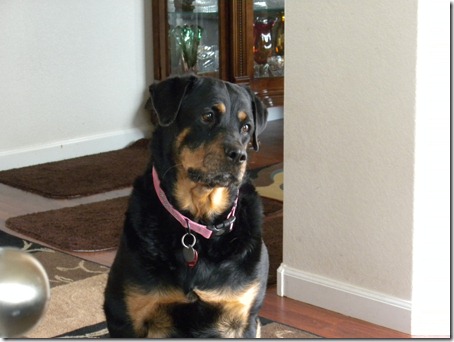 One of the more interesting things that Nikki has been doing lately is letting us know that she really just wants to be one of the dogs. Our normal routine in the morning is that I bring the dogs down the stairs and let them out (this means that Nikki has to navigate 2 sets of stairs going down) and then start my coffee. Then I go outside and down to wait for Nikki to be ready to come back up. Then I help Nikki up the stairs by using a makeshift sling (Really just an old sweatshirt that has been rolled up).
She has started letting me know that she really doesn't want my help up the stairs, so I've been gradually letting her navigate them on her own. (I still don't trust that she's got it 100%, but you can sure see her fighting spirit as she does this)
We've also been going for rides (her absolute favorite thing in life) that are just for her to enjoy as opposed to us having to go see a Dr. We've figured out a system in the Tahoe that lets Nikki comfortably hang her head out the window without me worrying that she's going to hurt herself. (As I mentioned in the last post, she figured out how to balance herself, but I really wasn't comfortable with letting her do that for long..) She's now asking for rides just about every day (Just like pre-diagnosis Nikki).
She's also finding more time to play with her siblings, and Sasha really appreciates this!