Well, we're another week along and Nikki hasn't really changed much, although she's starting to have difficulty breathing at night. Last night was a particularly rough night for her, and at one point she must've decided that it was easier for her to breathe when she was sitting up as she sat up for awhile before moving and laying back down and finally getting some sleep.
She hasn't had much of an appetite, and I've been trying just about everything I can think of to try and get her to eat. We finally figured out that Vienna Sausages work, so she's been eating a couple of cans of those (I know, yuck!) for her meals.. Sasha of course has been enjoying this process because this means she gets whatever Nikki rejects.
It's tough.. One one hand I look at Nikki and I wonder if she's suffering and if it's time for "that trip", but then I'll be out for awhile (I've been fortunate that I've been allowed to work from the home office lately, meaning Nikki has been hanging out with me a lot) and walk in the door and Nikki will be there to greet me pawing at me and asking for my face so she can lick it.. How can you possibly think it's "time" when she's doing this? (I think the answer is that she's just an incredible fighter, and has taken the tact that she's not going to let this stop her from being Nikki)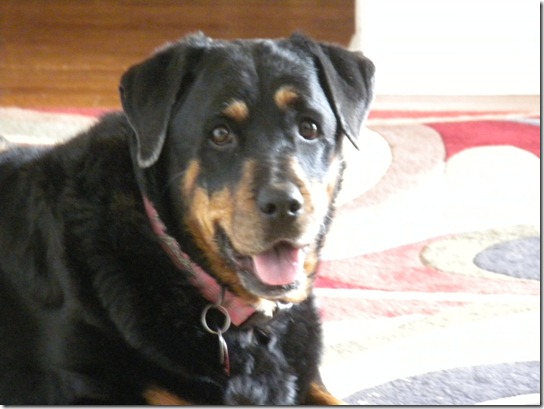 I took this picture a couple of days ago, and you can see that Nikki still has the spark in her eyes….
I've just been spending a lot of time with her, and letting her pretty much dictate what she wants to do. Strangely, she's been asking to be helped up onto the couch quite a bit, but will only stay there for about 30 minutes or so before she climbs back down and heads to her spot on the floor..
Oh well, we just wait and see I guess..