Tripawds is a user-supported community. Thank you for your support!
I was out of town this week (left on Sunday and returned Friday night). When I left, Nikki was doing great (and even chasing a stick in the back yard), but by Friday she had taken a turn for the worse. Seems that the lymph node "issue" (We still don't know what the problem is, but they are really swelling. One of them is larger than an Easter Egg at this point) had caused Nikki to catch a fever and she wouldn't eat at all. Mary dropped her off with Dr. Pyne, and just before I was to get on the plane to come home Mary called me to say that it appeared Nikki was in worse shape than she thought. High fever, very high heart rate, and overall just doing badly. Dr. Pyne did a blood workup and chest X-Rays to see if she could learn any more…
Well, it turned out that it is an infection of some sort (no cancer detected in the blood work) so Dr. Pyne gave some antibiotics and fever reducers and sent her home. By the time I got home, Nikki was happy to see me and did her normal welcome, so it was hard to say.. Then yesterday Nikki wouldn't eat again and you could just tell that she was in pain. Not a good sight or feeling. But, trooper that she is, she still drank water and would go outside when I asked her if she wanted to.
This morning, Nikki was feeling a little better, and as the day has progressed she's gotten back to her normal self, looking good and "talking" as well.. So who knows, I  guess we just keep trying to figure out what the lump is and go from there.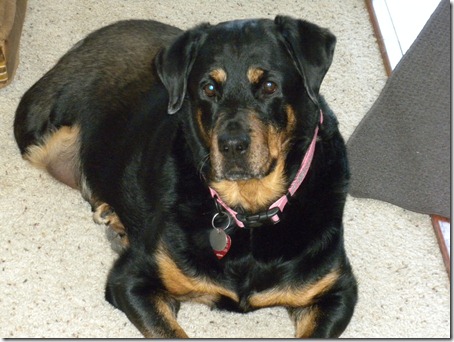 I'm hoping that whatever this is has run it's course and we can figure it all out. We see Dr. Pyne again on Monday, and then on Thursday Mary and I are supposed to leave for a few days in Tucson.