Tripawds is a user-supported community. Thank you for your support!
Yesterday marks 2 months since Nikki had the surgery, and almost 4 months since the initial diagnosis! Nikki is still doing quite well, and we expect her to be with us for many, many more months and years.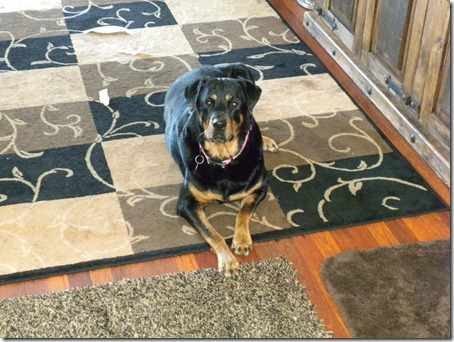 The last couple of days has been hard on the dogs. Mary left Thursday night to travel to White Sands, NM. Where she is participating in the annual Bataan Death March memorial. That leaves me home to take care of the dogs (I would have actually gone with her, but I fly out to Seattle tomorrow) and they're not quite adjusted to having me do that. (I am the "treat and play" guy, not the "take care of us" guy)
I have to take Nikki to the vet for a checkup today. Dr. Pyne is on vacation but we still want to monitor Nikki's progress and the lymph nodes near the surgery site. I think she's doing OK, and I haven't noticed anything unusual there, but it's best to have the professionals check as well.
Other than that, things with Nikki have been pretty good and I think the treatment plan we're on is really working for us. Nikki has actually been running and playing in the back yard, and last night she was chasing after a stick in the snow, so I know she's feeling a lot better. She still needs help getting up the stairs, and she still hasn't quite figured out that she balances better inside if she puts all of her weight up front (she does this just fine outside, but for some reason inside she thinks is different), but all in all I think she's happier now than she's been in a LONG time.
Oh, take note of the badge to the right that says "Vote for my Dog". Please take a moment and vote for Nikki. The winner has $5000 donated to the pet charity of their choice.
The Buddy Story
If you've read previous posts that I've made about Nikki, you know that we have 2 other Rottweilers in the house; Sasha and Buddy. Buddy was a rescue from one of the shelters here (9 Lives). We think he was abused, and was on his own for a long time before coming to the shelter. The docs estimate his age as anywhere from 3 to 6 years old. When he first arrived in our home, he was "skin and bones" and was very shy. Over the last few months he's filled out and has become a truly integrated member of our family. He is a great dog who only wants to be loved. I have no idea how someone could ever abuse such a dog, but then again I don't understand animal abuse in general.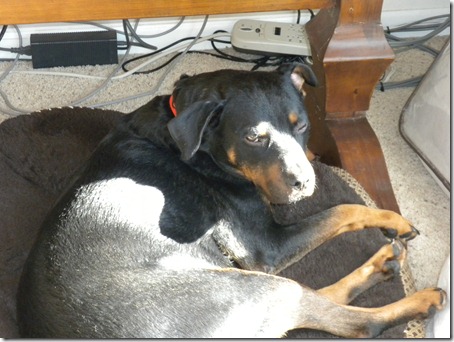 Anyway, you might be asking yourself what this has to do with anything…
Unfortunately, during a follow-up exam for Buddy last week, we found out that he too has bone cancer in his right-rear leg. We don't know exactly what kind yet, and we're going to get him up to CSU for an evaluation.. So, I'm going to need to create a new page here for Buddy… As I told Mary, everything happens for a reason, and I am pretty sure the reason that Buddy picked us (he really picked Mary, I was just there to provide the transportation) was so that he'd get the treatment he needs..