Tripawds is a user-supported community. Thank you for your support!
Mary and I took Nikki to see Dr. Pyne on Saturday. This was a follow-up visit from the earlier visit this week, plus we needed to hear the results of the lab tests on the "congealed seroma" fluid.
First the great news, NO CANCER DETECTED!!!
Both the lab work from the fluid and the chest X-rays are cancer free!
(Not sure I need to write anything else after that! It's great to hear that the cells are not cancerous)
However, there is some worrisome activity going on. It's pretty clear that Nikki's lymph nodes are working overtime in that area, and we don't really have an idea as to why. The lab results showed some high values for <insert technical name here for the Lymph cells, I can't remember it> and some elevated white cell counts. This leads Dr. Pyne to wonder what exactly is going on, and we're going to be keeping a close eye on the area for the next few weeks. We'll be taking Nikki back for weekly visits, and hopefully whatever is going on will work it's way through and be done.
Nikki seems none the worse for wear right now. She's been pretty happy this week, and pretty much up to her old tricks.
She let me know that she doesn't like the blanket that I threw in the back of the Tahoe for her to lay on while we ride to/from the Dr. Office… She did this while we were driving to the office…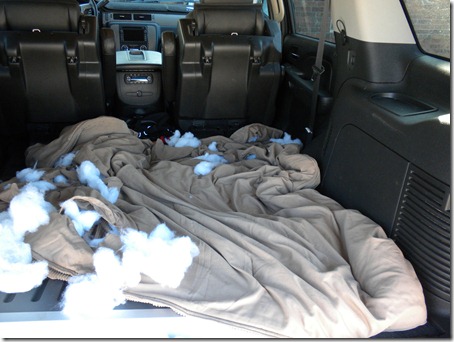 She was much happier with just the regular carpet on the ride home! (Thank goodness)