Tripawds is a user-supported community. Thank you for your support!
Things have been going quite well with Nikki's recovery. I've been on the road quite a bit over the last 3 weeks (was home all this week for a change) so I've been missing out on the day to day stuff with Nikki, but when I'd come home she would be very happy to see me, and last weekend she was really clinging to me and giving me the worried look until she realized that I wasn't leaving again.. Funny how dogs really know these things..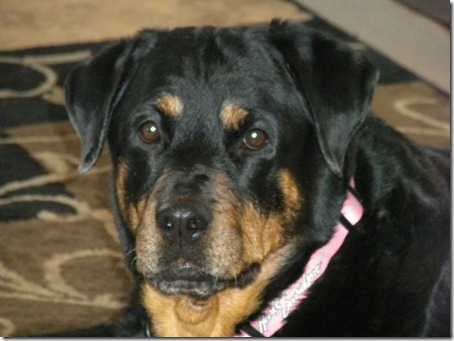 Anyway.. Tuesday night Nikki was very restless. She just couldn't get comfortable at all. We weren't really sure what to make of it, and when she didn't seem to get better by Wednesday, we called Dr. Pyne and got her in for a look-see. We had to drop Nikki off, and when we arrived back to pick her up, Dr. Pyne had "that look" about her. She was really worried about a couple of lumps that she found near the amputation area. She told us that it looked like lymph nodes being aggravated, and we needed to do a biopsy to determine what it is… You can probably imagine the thoughts that were going through our heads at this point, because we'd just gotten finished talking about how Nikki's recovery has been progressing quite well.
Dr. Pyne went ahead and did the needle biopsy, and then came back in the room with a smile on her face…As it turned out, the lumps that she had noticed were simply some left over seroma fluid that had congealed a bit. We had figured that the seroma was completely healed, but apparently not.. We're sending the fluid out to the lab anyway as a precaution, but for now we've breathed a HUGE sigh of relief..
Nikki slept much better Wednesday and Thursday nights, and we have to drop her off with Dr. Pyne again tomorrow for a follow-up exam…
Meanwhile, Nikki is back to her old self playing with her toys and just being a dog…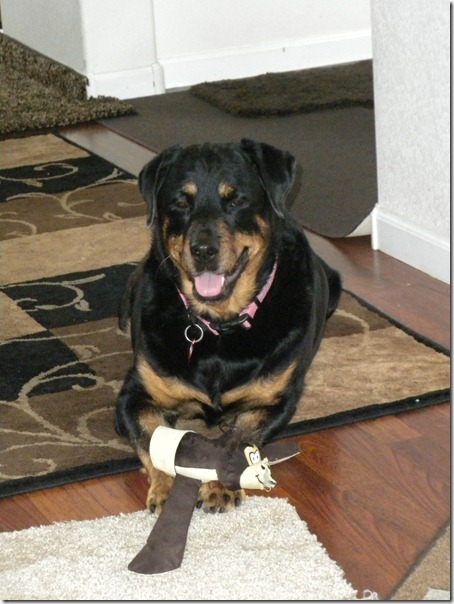 Let's continue to hope for more "normal" days….