Tripawds is a user-supported community. Thank you for your support!
We are now at surgery day + 11, and things seem to be settling into a regular routine. Nikki is very much getting back into her old habits. One of the things she loves to do is take the caps off an empty plastic bottle, she'll see me finish a coke or something and then expect me to put the cap on and give it to her… I was sitting in the office here last night when she noticed me finish one and she asked for it… Took her a little while longer than normal to get it off, but get it she did…
We've had a bit of leakage and such from the seroma, and Nikki seems to be moving a bit slower than she has been, but all in all I'd say we're making really good progress.
Here's a short video that I shot of her today:
Nikki does seem to be a bit more restless over the last couple of days. She'll move around a bit, scoot some on the carpet, and try really hard to lick her stitches. I imagine that is due to the itchy part of the healing. The anti-itch cream helps, but all in all I think everyone will be happy when the stitches all come out and the wound can heal.
Today was a pretty lazy day. I played a lot with Sasha and Buddy so they wouldn't feel left out, and when I decided to kick back on the couch, Sasha decided that she would join me as you can see here. (Nikki is hard to see to the left as she's passed out on her blanket)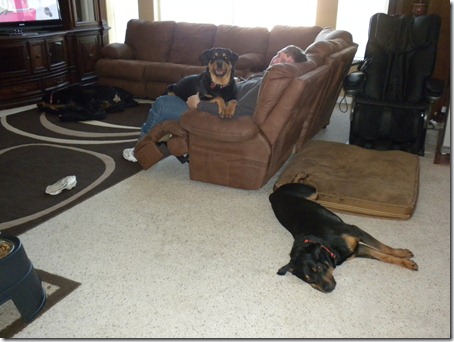 Tuesday we see Dr. Pyne again and decide whether we get to take the stitches out, and possibly drain the seroma some more. Otherwise, pretty "normal" stuff I guess.