Tripawds is a user-supported community. Thank you for your support!
Well, it was another fairly uneventful night with Nikki and the others. We took them upstairs and Nikki laid down on her bed and watched while the rest of us went through our nightly rituals. I played with Sasha and Buddy and the laser (they just love chasing that thing) and then we all settled in to watch yet another episode of Adam 12 on the Xbox. (Can't get enough of the old 70's TV shows)
Nikki was a little restless at first, but she settled down and went to sleep. I think her stitches are starting to itch a bit because she'd occasionally wake up and try to get to them. Otherwise though it was a pretty calm night. About 6am Nikki had positioned herself in front of the door and was pawing at it (she has figured out that she needs to lay down to do this now) to let us know she needed to go out. I took them all down and out, and Nikki did her business and came right back to me for help up the stairs.
I've had a bit of work to do today, so I've been sitting here in the home office while Mary is doing other housework. The dogs have been hanging with me off and on, pretty much treating the day as a normal weekend day.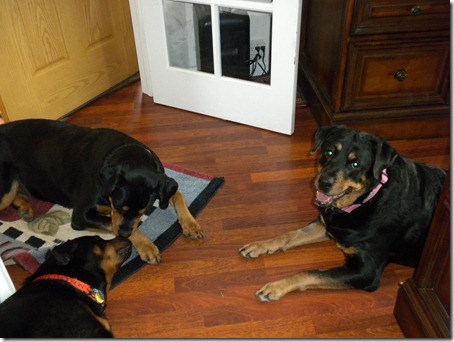 As you can see by the look on Nikki's face, she's not doing too bad at all.
Nikki has been fairly mobile today. She hasn't been scooting around much, just hopping wherever she wants to go. When I took everyone outside for the second time (We normally let them come and go as they choose as our back door is fitted with a dog flap, but Nikki tried to go out it yesterday and didn't do so well, so we've decided to close it off until she heals more) she decided to slow down a bit and just enjoy what for her is a normal routine outside. You can tell she gets a bit tired towards the end of the video, but she appears to be adjusting pretty well. As this is only day 5 post-op, I think she's doing fabulous. (You can hear that the wind is really blowing here today as well, which I'm sure doesn't help Nikki too much)
As the day wears on, Sasha is pretty bored, Buddy is hanging out with Mary, and Nikki is trying to tell me it's time to go for a ride. I don't think she's quite ready for that yet, although tomorrow she'll get her chance as we have an appointment with Dr. Pyne for a post-surgical checkup.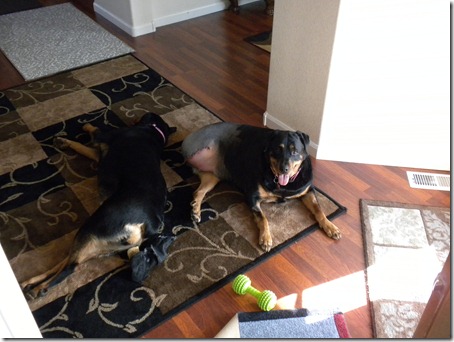 You can see in this picture that the bruise on her wound is healing up quite nicely.