Tripawds is a user-supported community. Thank you for your support!
Last night was another good night. Nikki was a bit restless when we first went up the stairs, but she did settle down pretty quickly. She had been pretty mobile on her own throughout the day and evening, so I know she was tired. She woke up around 0330 and whined for a little while, but quickly went back to sleep.
We slept in until 0730 this morning (WOO HOO!) and then started the whole morning ritual. I took Nikki down the stairs and outside (We have 2 sets of stairs she has to navigate, from the bedroom to the main level, and then from the deck to the ground) and at this point I just let go of the sling at the bottom of the stairs outside, and she "runs" off to do her business.. She is still a bit unsteady on that remaining hind leg, but I know it will get better for her.
We got back inside the house and the dogs got their treats and breakfast, then Mary and I sat here in the office to go through email, facebook, etc….
You can see in the third picture below that the bruising is already disappearing on Nikki's wound. I think this is due in part to the fact that Mary has been occasionally icing the area per Dr. Pynes recommendation.
Sasha and Buddy have been doing just great with Nikki (We weren't so much worried about Buddy, but Sasha was a wildcard. She's crazy, and as full of energy as you might expect for a 1 year old Rottie) and the dogs are all simply laying together in the front entry way watching the goings-on in the neighborhood.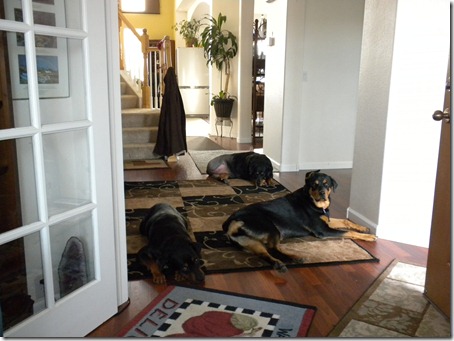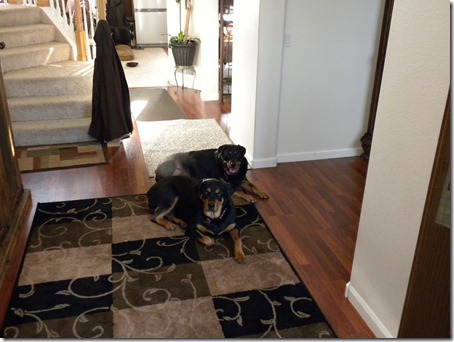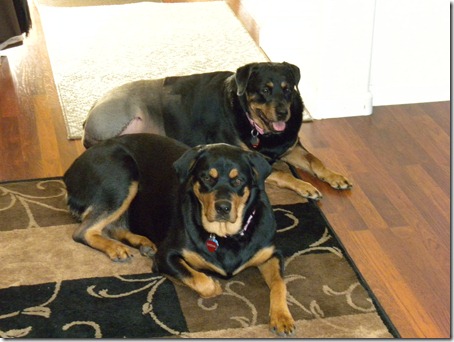 Mary and I are going to go out today and buy a ramp. We both drive SUVs and Nikki loves to ride, so rather than try and struggle to get her in the vehicle (we have an Appt. on Monday to see Dr. Pyne) we're just going to get a ramp..
I'll post an update this evening, and maybe try and get some video of Nikki out in the yard today.