Tripawds is a user-supported community. Thank you for your support!
Wow!
We got the call that we could pick Nikki up around 7:15pm.. We had a pretty intense, but quick snowstorm here this afternoon and the roads were icy, so we had to take it very easy.. I was having a difficult time driving just because all I could think about was getting Nikki home….
Well, we got to Banfield and met with Dr. Pyne. She spent a lot of time explaining to us how the surgery really couldn't have gone better, and how she was sending the leg out for pathology on the cancer, but that it just looked like everything was caught in time and we should be relieved about that.. Then she started explaining about how no matter how many pictures of 3-legged dogs we looked at, and no matter how many people we've talked to about it, when you see your baby come out of the room you're just not going to be prepared… Well, she was SO right…… I was convinced that we did the wrong thing just as soon as I heard her crying and saw her being carried through the door…… I know that's the wrong thing to feel, but it's very hard to look at what we've done to her. (yeah, I know, it will all be better soon, and we should remember that we saved her life)
Anyway, here's a picture of Nikki on the cart ready to get loaded into the Tahoe: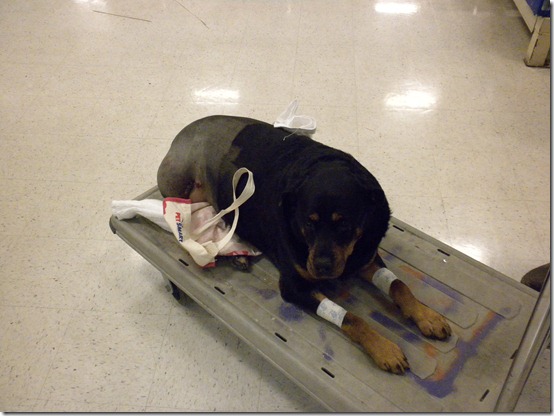 And here she is on the bed in the front room, where we're going to spend the night: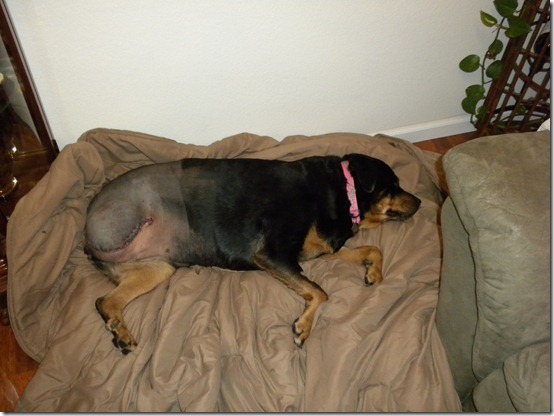 I suspect it's going to be a long night, but the great thing about that is now that we're done with this part, this is just the first night in many, many, many more……
Thanks again for everyone's comments and messages. They are really appreciated, and while I don't take the time to respond to each of them, please know that both Mary and I really do appreciate all the support we've gotten here.